How to Style: Blankets & Throws
How to Style: Blankets & Throws
featuring styles with our favorite denim and shoe brands

Because we've been spending so much time in our homes, we long to have that same comfort and sensibility in all aspects of our lives. Natural materials and pleasing textiles contribute to a heightened sense of well-being. Read more to learn how you can easily elevate your wardrobe to reflect your sacred space.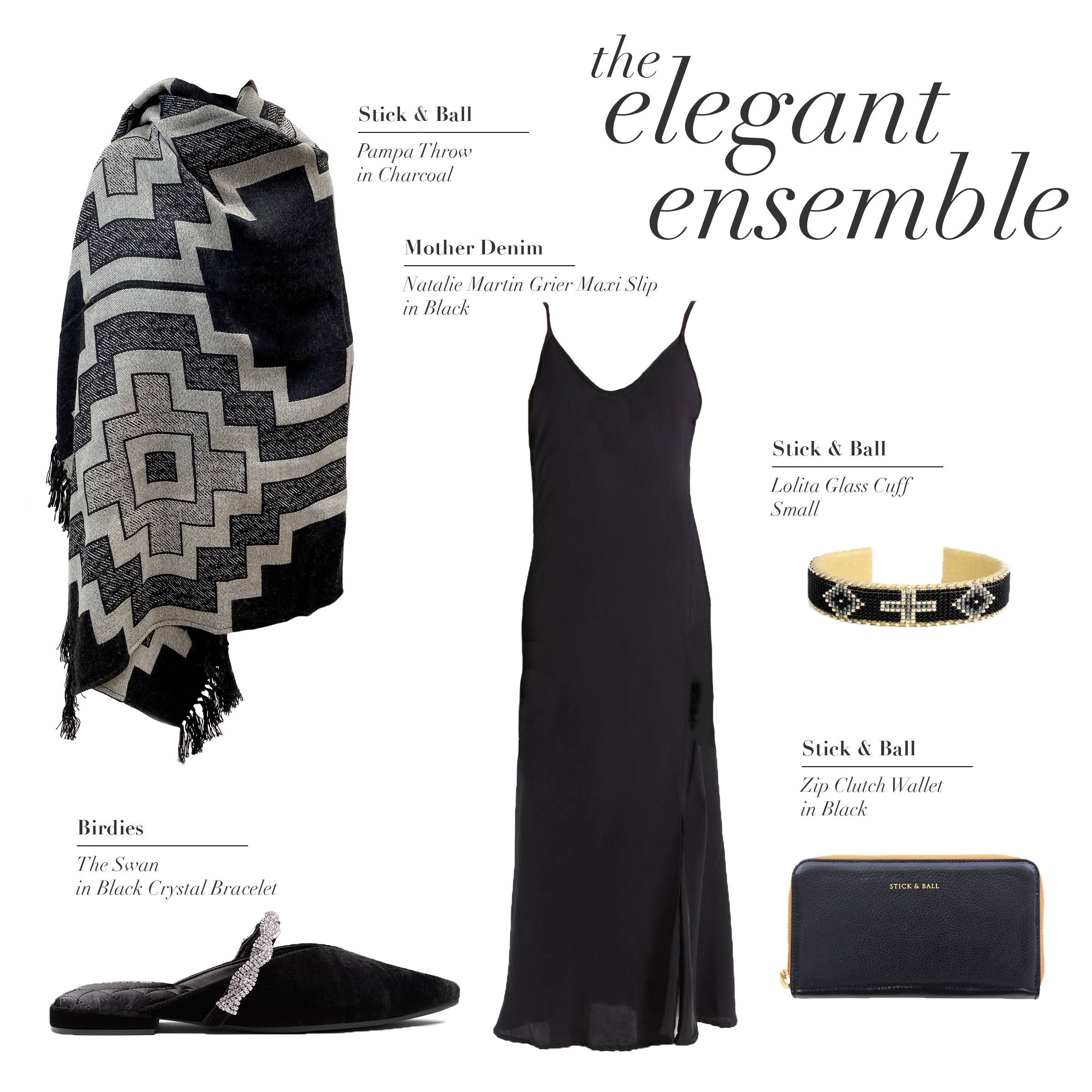 Blankets and throws are excellent for layering and adding dimension to your style, the same way you would use an extended scarf or shawl. This all black ensemble is perfect for an intimate outing. Beginning with a sultry slip as your base, such as this one from Mother Denim, bring in a graphic pattern like that of the Pampa Throw. These velvet slides from Birdies are the epitome of elegance and class. Adorn yourself with your favorite jewels, creating a dainty stack with the Lolita Cuff, or using a statement piece. The zip clutch wallet is the finishing accessory to bring this classy look together.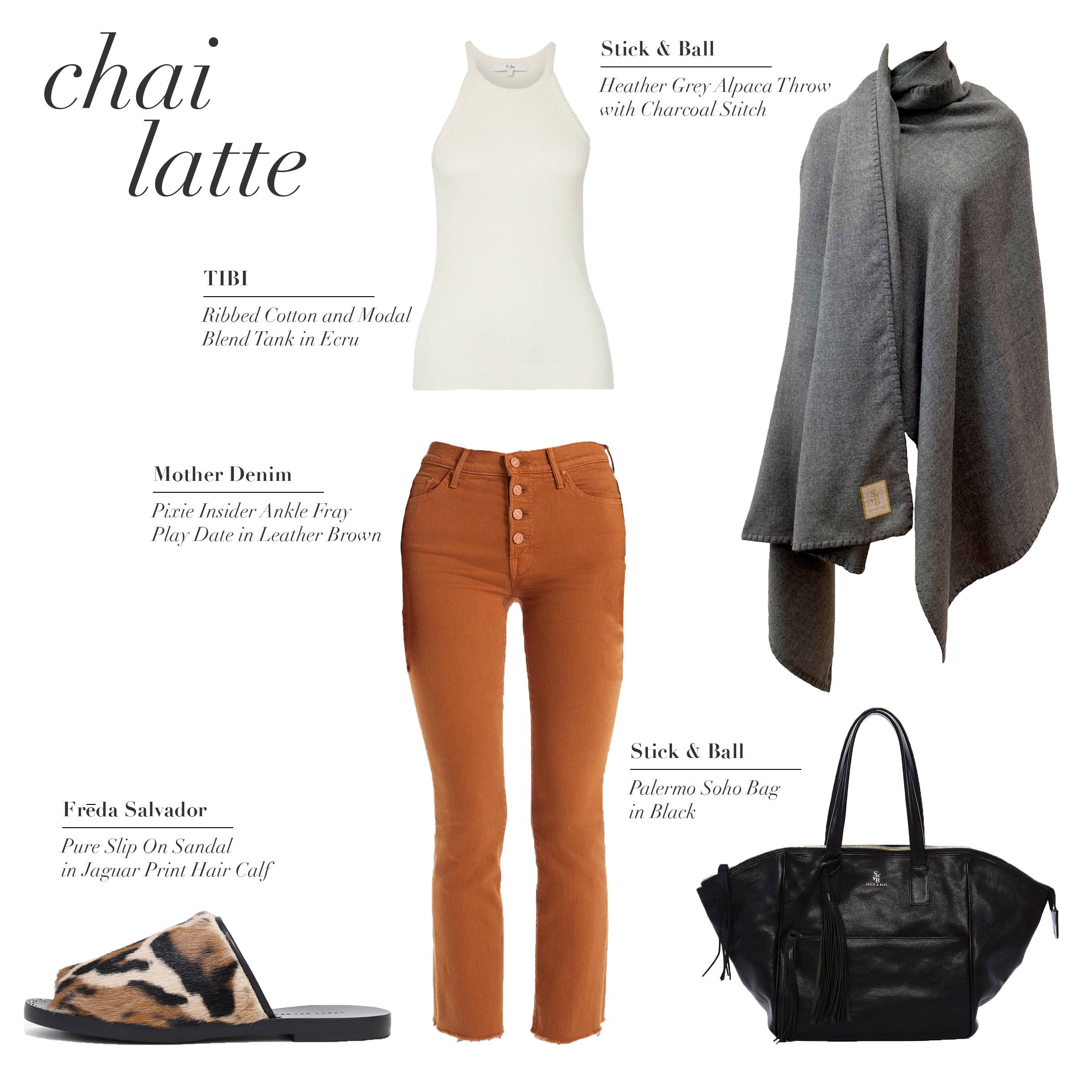 Sugar, spice, and everything nice –– just like a great latte, a stellar look creates a harmonious balance of complimentary elements. For this home styled look, we took a more casual approach in pairing more relaxed pieces. This Ribbed Cotton Tank from Tibi is a subtle textile that provides the foundation for the rest of the pieces. Mother Denim's Pixie Insider brings a warm pop of color that lifts up the accompanying darker tones. Wrap yourself up with our Alpaca Throw in Heather Grey and slide on these beautiful slip on sandals from Freda Salvador. If you're on the go, grab our Palermo Soho Bag in Black for a stunning accessory.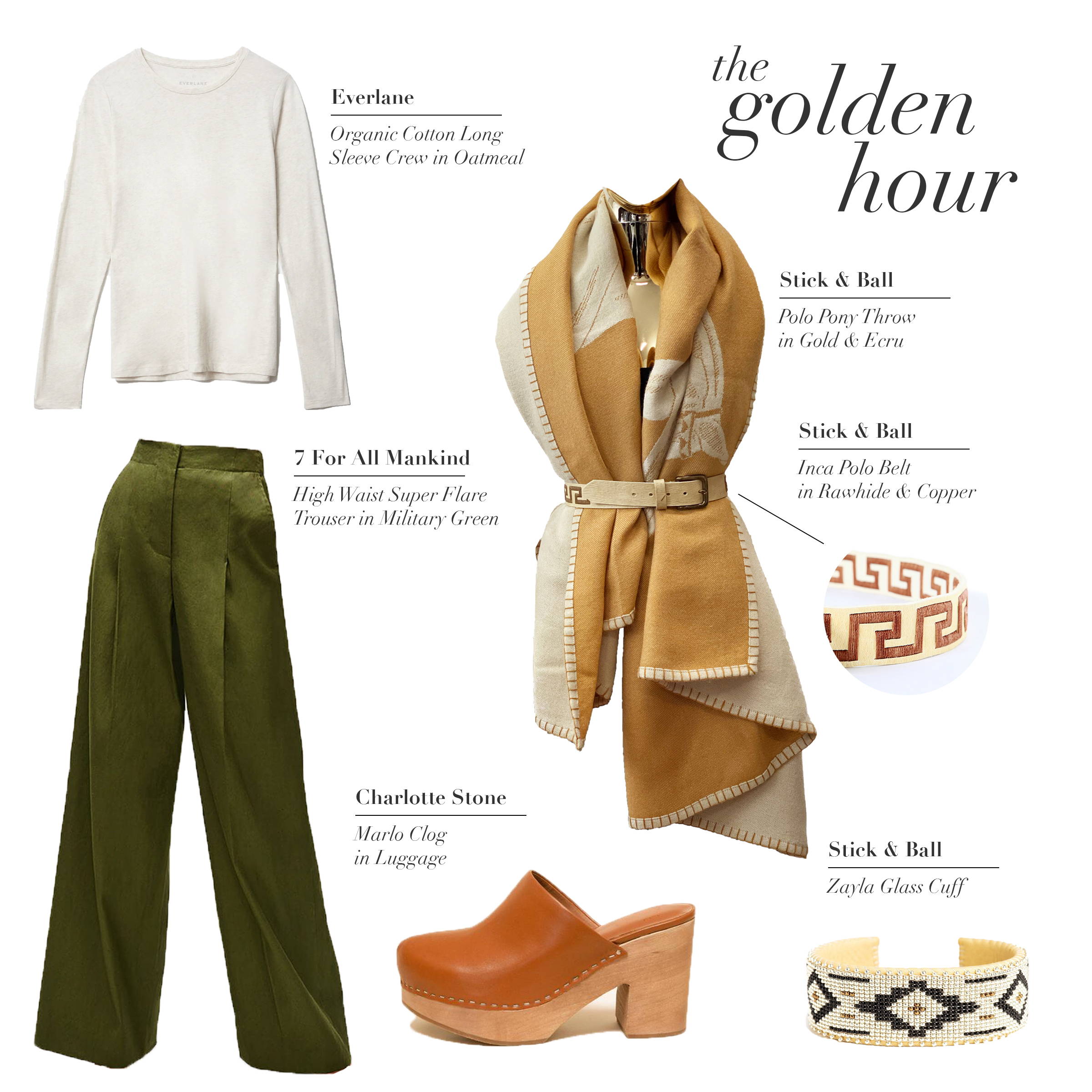 If you've ever listened to Jill Scott's "Golden" this look is that feeling personified: energized with warmth and a freeing spirit. Music is food for the soul and feeding your intrinsic self is fuel for your outward glow. Beginning with the basics, start with a simple long sleeve; we chose a neutral colored organic cotton shirt from Everlane. These alluring military green pants from 7 For All Mankind is one of the standouts of this look and aids in creating a rich tonal palette. Keeping with the home styling theme, we took our Gold Polo Pony Throw and belted it using our Inca Belt in Rawhide. The finishing touches are these Charlotte Stone clogs in a decadent shade of brown and the Zayla Glass Cuff. When you feel good, you'll look even better and can put your best dressed foot forward.
Leave a comment