How to Style: Our Handcrafted Belts
How to Style: Our Handcrafted Belts
featuring styles with our favorite denim and shoe brands

It's all in the details. Accessories are the vehicles to bring all the minuscule but monumental moments of a look completely together. It could be the stitching, the color, or even the texture. The details always matter and sometime, are even the star of the show.
Perhaps one of the more common accessories, belts, can become far more than their functionality. Our hand-stitched, vegetable tanned leather belts come in a variety of contemporary and modern styles. Stick & Ball belts can be the perfect finishing touch or your favorite standout accessory.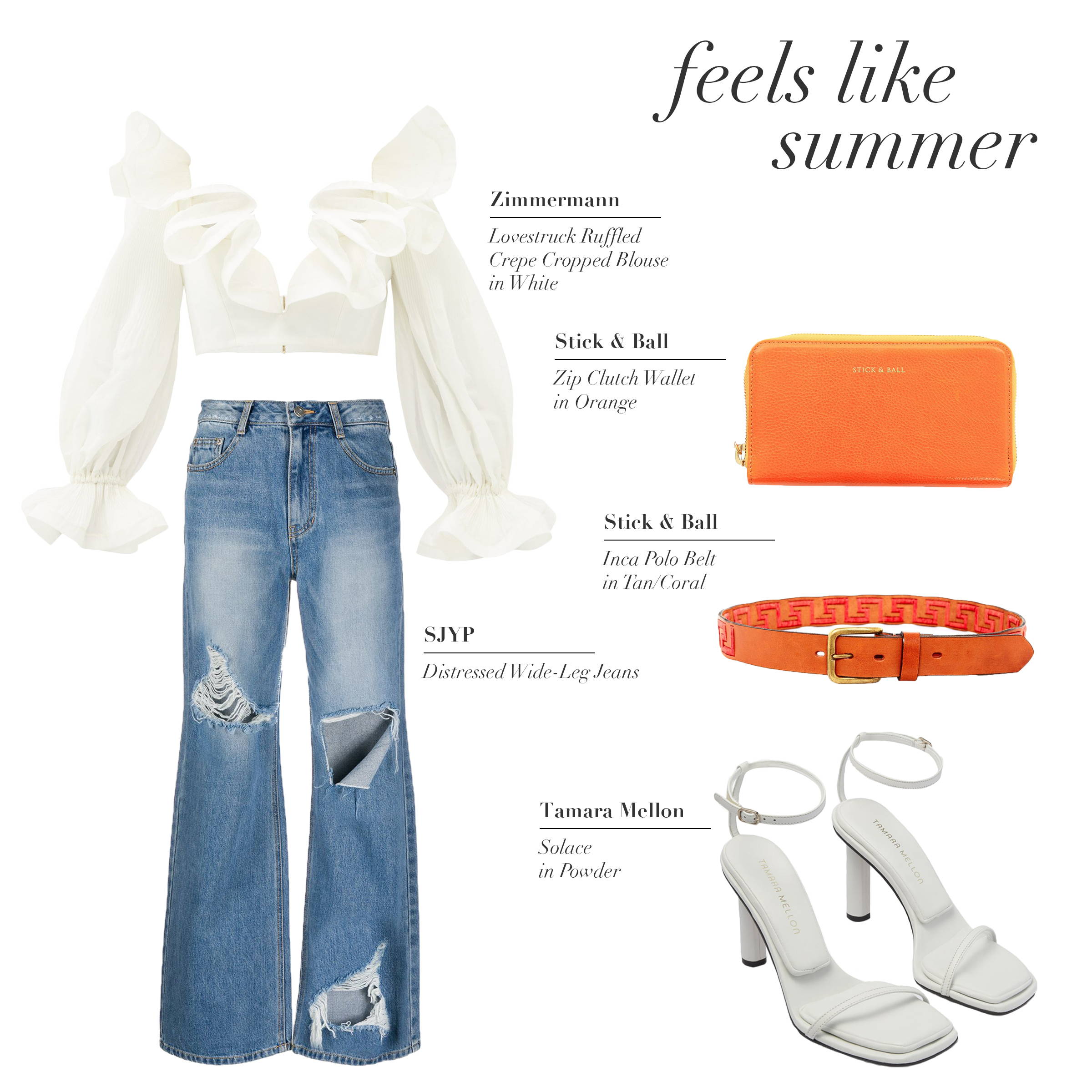 We all look forward to summer for a multitude of reasons. For some, it's the sunny days and the bliss we feel by being in nature. For others, it may be the change in palette to bright, playful hues and the overall refreshing sense of joy and newness that the season brings. For us, it's a combination of those elements that manifest in our wardrobes. This look, beginning with this bountiful, blooming blouse in ruffled crepe by Zimmerman, feels like summer. SJYP's distressed wide-leg jeans bring a polished edge, with a flattering silhouette and tactile tears. Our Inca Polo Belt in Coral and Zip Clutch Wallet in Orange are brilliantly bold accessories, and the hand stitched pattern in the belt is another chic textural detail. For the shoe, opt for a light, minimal heel, like these from Tamara Mellon in soft Powder.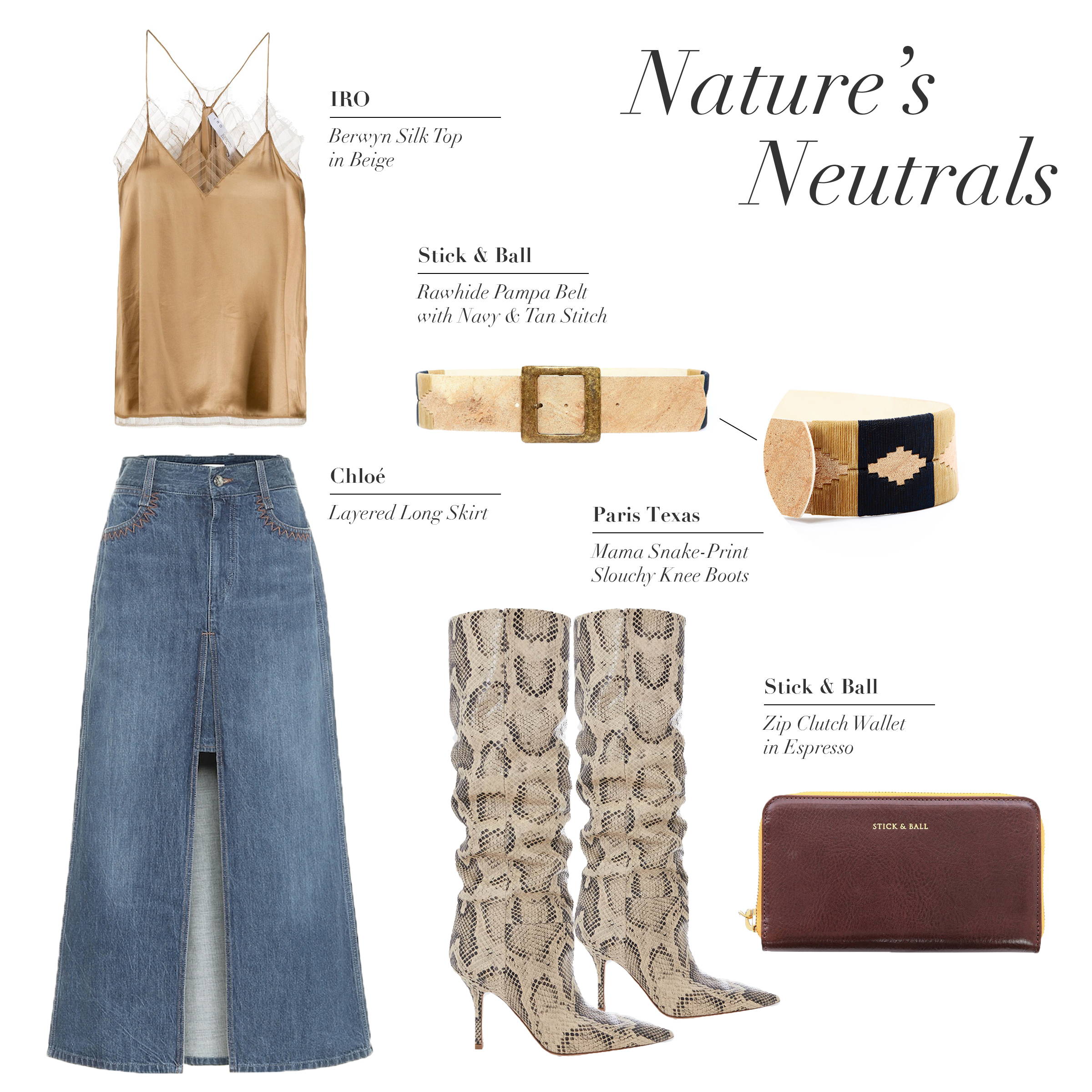 Embrace your inner Mother Nature with this set that's rich in earthy hues and natural motifs. A light and luscious top –– like IRO's Berwyn Silk Top in beautiful beige –– is what you'll need. We love this top because of its luster and airy lace detailing. This denim skirt from Chloé is a nice departure from your standard jeans and is far from ordinary. Featuring a long front slit, this layered skirt is a compelling component to this look. These slouchy knee boots from Paris Texas are not just made for walking, but for strutting. The snake print provides a recognizable yet needed natural visual. Our Rawhide Pampa Belt with its natural patina and hand-stitched detailing is the perfect unifying accessory. Finish the look with our Zip Clutch Wallet in Espresso.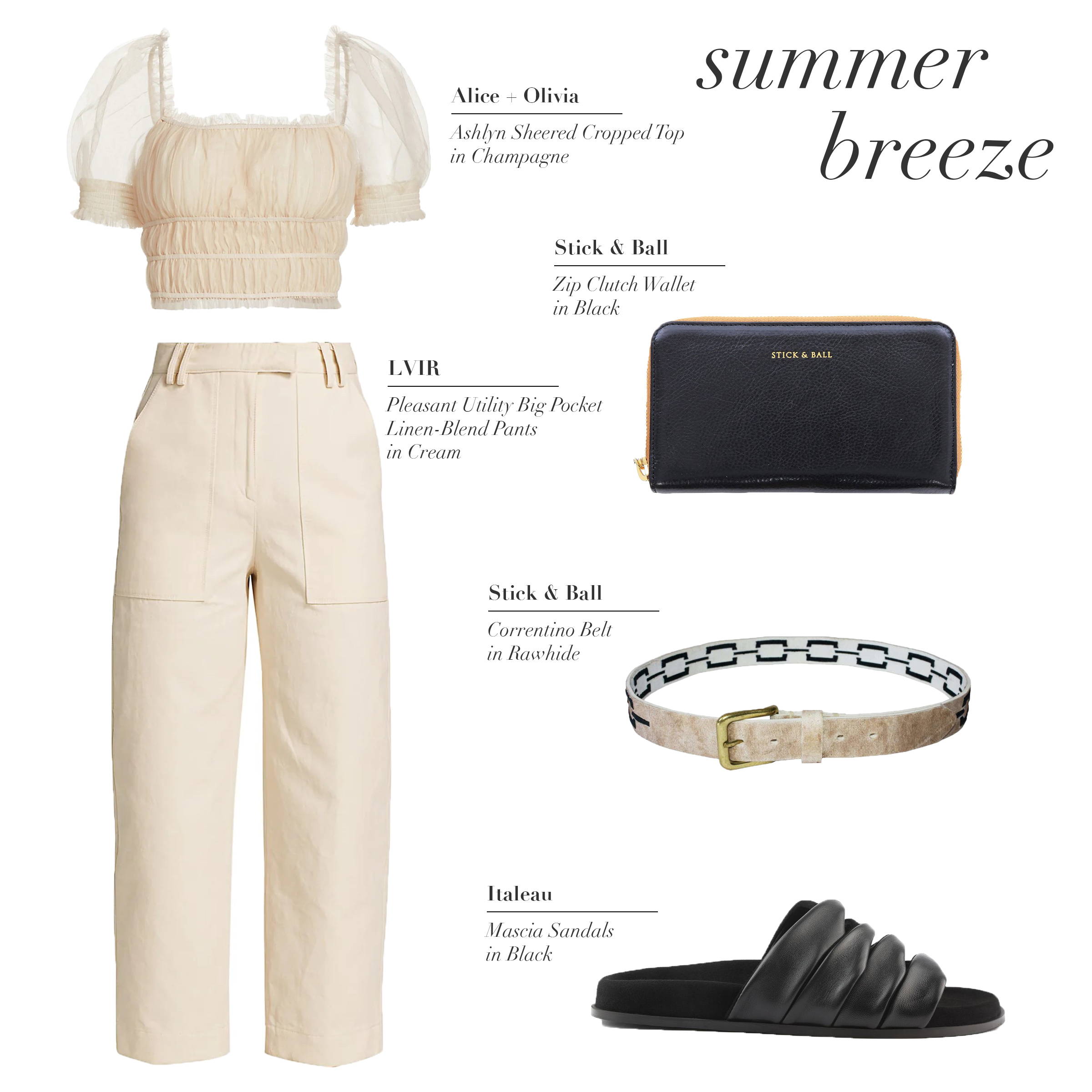 There's nothing like a warm summer breeze and an outfit you'll love just the same. This light and airy look is perfect for your evening stroll or laidback day jaunts. This cream dream starts with this sweet cropped top with delicate puff sleeves from Alice + Olivia. Its tailored fit and straight neckline give the top a frame-like essence from both a visual and functional point of view. Next are LVIR's Pleasant Utility Linen-Blend Pants in a comparable cream. What I love so much about this combination of the top with the pant, is that one is very feminine and soft while the other is very structured and utilitarian, so together they just create this beautiful chemistry –– plus the colors were too perfect for each other! What ties all the other elements of this look together is our Correntino Belt in Rawhide. Not only does the natural patina bring in all those gorgeous shades of nude, but the belt stitching introduces a brilliant black that makes room for sensible accessories. Complete with Italeau's Mascia Sandal and our Zip Clutch Wallet in Black.
Leave a comment