How to Style: Our New Faux Coco Weekender
How to Style: Our New Faux Coco Weekender
featuring styles with our favorite denim and shoe brands

Do you remember your last vacation? How was the weather? Did you indulge in the local cuisine? I'm sure we all find ourselves reminiscing about those blissful moments in the hope that we can soon experience them again.
Our ideas of "travel" and "vacation" have surely broadened and become more imaginative to include anything from a day trip to the next town to even the intimate oasis we may create for ourselves in our backyards. Our newest bag, the Faux Coco Weekender, is inspired by our insatiable appetite for travel and exploration –– ready for wherever your next getaway may take you.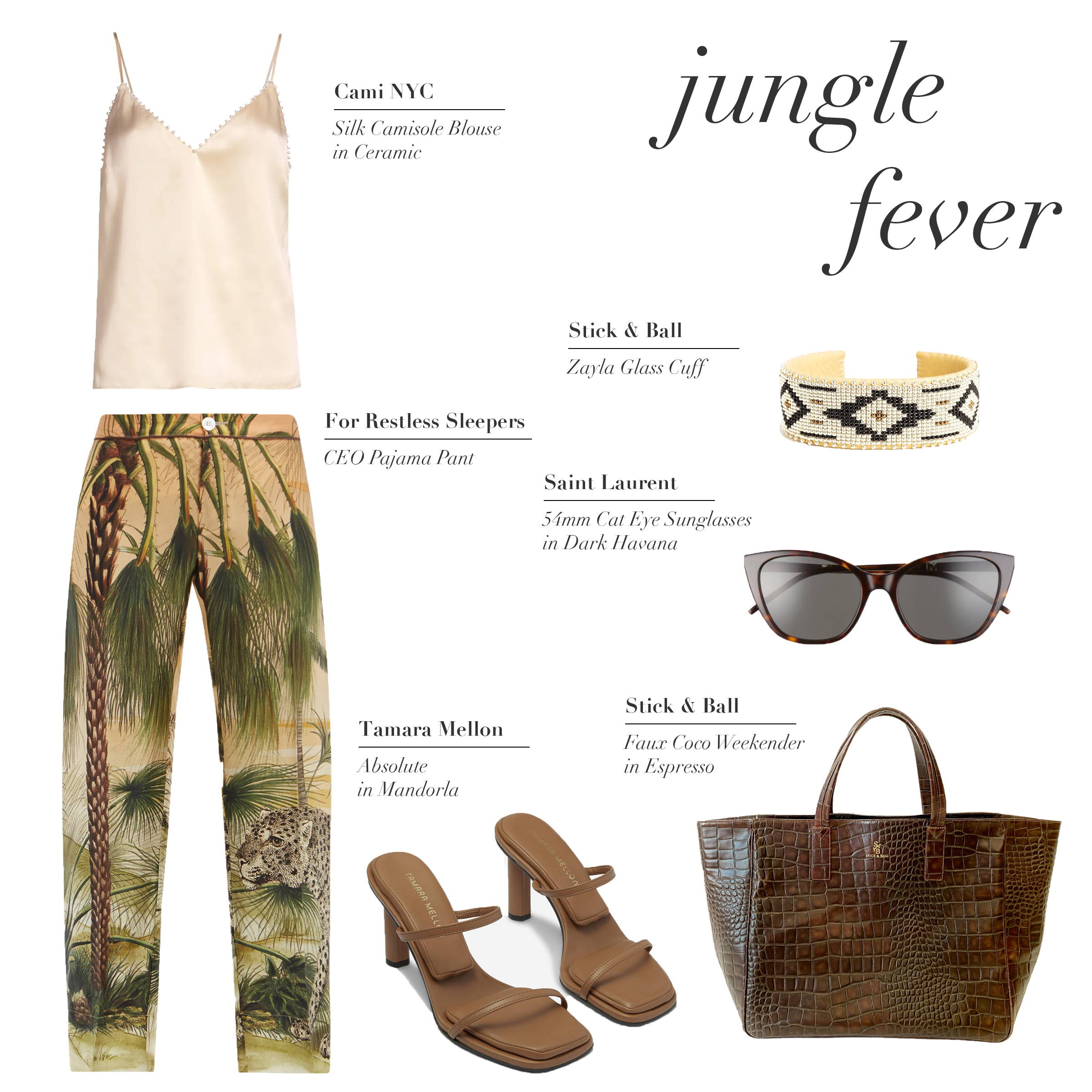 Our first look, aptly named for our theme, is an adventurer's dream for an exotic excursion. Loungewear is elevated to new heights with these exquisitely printed silk pajama pants from For Restless Sleepers. The tailored fit of these naturally lends itself to a minimal, sleek heel such as these coco colored beauties from Tamara Mellon. Opt for a neutral colored blouse, like the Silk Camisole Blouse from Cami NYC, to work with the richness of the pant. The look wouldn't be complete without stunning accessories –– a cat eye frame from Saint Laurent, the Zayla Glass Cuff, and of course, the Faux Coco Weekender in Espresso.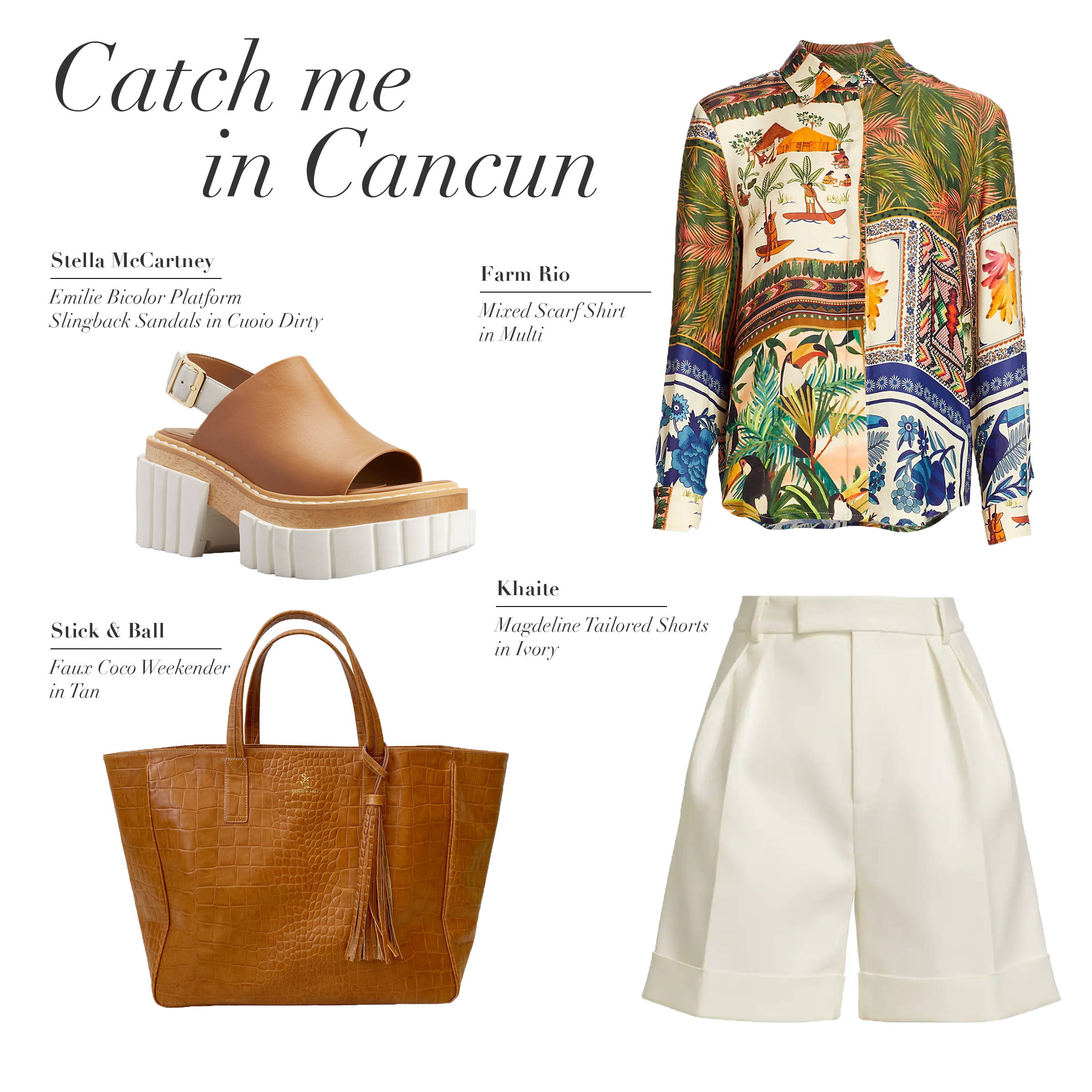 Who doesn't love a good party? Strutting in this tropic centric mix is bound to have you be the life and the look of the evening. Farm Rio's Mixed Scarf Shirt transports you to your favorite beach, cocktail in hand with a gentle breeze, and suddenly, all is right in the world. This button down, beautifully printed with bright colors and lush tropical motifs, is akin to a collage of memories from a dream getaway. For such a visually impactful top, pair a neutral tailored short, like these from Khaite. We couldn't resist these fabulous platform slingback sandals from Stella McCartney to match our Faux Coco Weekender in Tan to accessorize.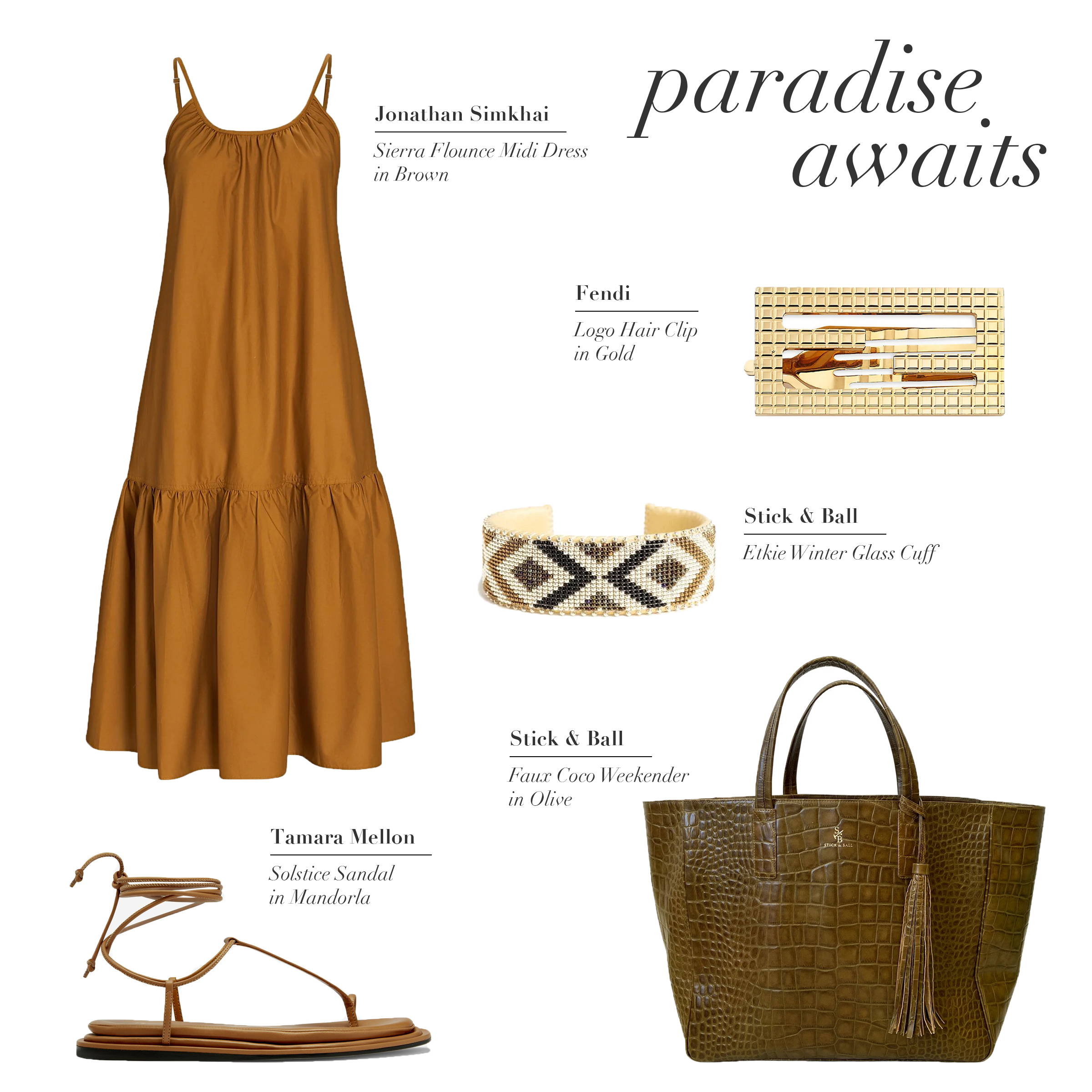 Our last getaway getup is a simple, yet elegant pairing using closet staples. Midi dresses continue to be mainstays in wardrobes this season, and this Jonathan Simkhai is no exception. This decadent shade of brown couples beautifully with our Olive Faux Coco Weekender. You'll need a minimal sandal to fully embrace the ease and simplicity of this look –– look to Tamara Mellon for some strappy inspiration. Detailed accessories like our Etkie Winter Glass Cuff and this Fendi Hair Clip are what complete the look, bringing color harmony and texture play.
Leave a comment